Our Mission
To harness the power of innovative technology, merging it with athletic wear to enhance performance, recovery, and sleep for athletes across the spectrum. We are here to redefine the athletic experience.
Welcome to Baller Athletik, where we fuel your passion for peak performance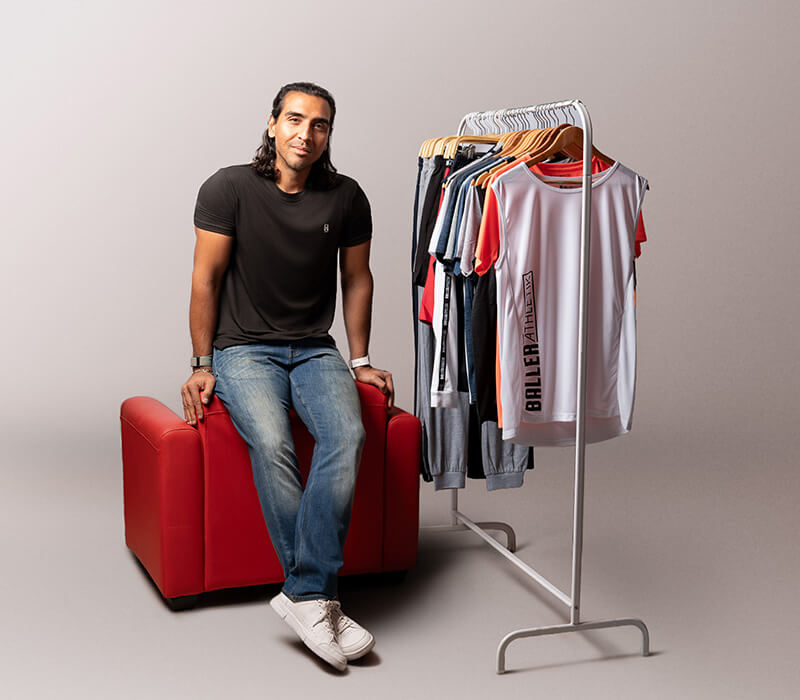 Our Story
Our story starts with over a decade of experience in textile chemistries and fabric technologies, a fascination for the human body's resilience and potential, and a quest to optimize personal fitness

Unraveling the complex science of overtraining and under-recovering, we ventured into the science of Far Infrared energy and Bioceramic minerals, intrigued by its potential to revolutionise sports performance.
Technology Through Clothing
At the heart of our ethos, we source the finest fabrics globally, harness the latest manufacturing processes and back them with science. This synergy results in the creation of unmatched athletic wear designed with precision to our customers the pinnacle of comfort, performance, and style. With us, experience the best the world has to offer in sports apparel
Worn by Champions
Baler Athletik is proud to have served premier teams from the Rajasthan Royals, ATK Mohun Bagan FC, and the Bengal Wariors, along with leading tennis, squash, footbal, powerlifting, weight training, and para- lifting champions in India. Their stories of success, boosted by our gear, reinforce our commitment to quality and innovation.
Pinnacle of Excellence

We relentlessly pursue the creation of the finest sportswear, enabling athletes to perform at their peak and feel extraordinary.

Innovation & Advancement

We consistently leverage state-of-the-art technology, like Energy Enhancement, to elevate sportswear quality, enhancing both form and function.

Empowerment

We believe in fostering a community that propels self-belief, pushing boundaries, and creating the best sportswear to inspire confidence and success.
Here's what some #Ballers have to say!









"I was so fascinated by the technology in the clothing, and wore it for 10 straight days, the recovery between sets, I'm not as fatigued and it's as simple as wearing a garment and getting better!"

Abeer Arsiwala, Indian National Footballer
"They felt energised and well rested and improvements were observed in recovery patterns."

Bengal Warriors
"It has created great impact in my training, recovery, energy, my reaction time and sleep patterns which substantially improves my performance and endurance and with progressive results I look forward to win more championship wearing Baller Athletik"

Pranit Watve - Indian Racing Driver - Formula 4
"The players felt super comfortable in their gear, and they love how they look in it. We want the best in recovery tech for our players, and Baller Athletik delivers."

UMumba
"Even if a billion dollar brand approached me, I wouldn't work with them. Having practically lived in Baller Athletik gear, I feel like the best possible version of myself and I feel myself levelling up everyday."

Karan Chauhan, MMA Fighter, India Ranked #3
"Players felt improvements in their sleep patterns, reduced post training muscle soreness as well as an overall improved sense of well being"

Rajasthan Royals
"As a professional football team we recognise the importance of BALLER ATHLETIK's contribution to enhance optimum performance by helping our athletes recover while they're playing, moving and resting."

ATK Football Club
"The technology in Baller Athletik improves my workouts and recovery multiple folds, just by wearing the clothes, it's amazing!"

Khushi Ganatra - National Para-lifter
"Baller Athletik has helped me recover better and enhance my performance with my own energy. Even a difference of a few percentage increases in my energy levels can boost my performance"

Fatema Dhoondia - 4x World Record holder